I was born on the 14th of May 1937. It was also the 1st of the month of Edavam 1112, as per the Malayalam calendar. If one adds 825 to the Malayalam era date, any Malayalam date can be converted to the Christian era date. The Malayalam year started at 825 A.D of the Christian era. Though the exact event that triggered the fresh start is uncertain it may denote the death of Sri Sankaracharya. This is also known as Kollam era. Malayalam can be spelled forwards or backwards, an example of palindrome.

Edavam is the tenth month of a Malayalam calendar consisting of twelve months. The days in a month are named after the Stars or Nakshathra and Thiruvathira, my nakshathra, is the fifth amongst twenty seven nakshathras. Thiruvathira happens to be Lord Siva's birthday star and therefore an auspicious day. Astrology has been practiced by the Hindus from ancient times and the cosmic influence on earth and its living and non-living components has been well accepted. An individual's progress on this earth already charted then is the Yogam ( destiny). An astrologer writes a Jathakam (predictions) based on the Yogam of an individual. Events then unfold according to the individual's Yogam!

Much later in life I remember my mother mentioning that I was born with great or special Yogam ( destiny) and I was well equipped for this life. My extended family though did not particularly have any great faith in astrology. My oldest uncle had an explanation. It appears that a great wise Yogi (an enlightened soul) once visited Tripunithura and remarked that as long as we were in bondage with Lord Poornathrayeesa, (The deity of our temple in Tripunithura), Yogam can be made and unmade with His blessing! Lord Poornathrayeesa's sphere of influence is so great that the cosmic impact of stars makes no dent on the individual.

I was born and brought up in Tripunithura. My mother belonged to the Cochin Royal Family who are Kshathriyas by caste. My father was a Namboodiri (a Brahmin caste) who hailed from Manalur near Thrissur. Being a matrilineal or marumakkathayam society, I belong to my mother's family. (Few isolated societies follow this tradition as opposed to the patrilineal system that is adopted the world over.) They were both 25 years old when they started living together. My mother was already a matriculate. (This means my mother graduated from High school. Those days the final exam of High school was called the ' matriculation' exam.) My father enrolled in the High school in Tripunithura after marriage to complete his studies. They had 6 children. I was born as Rama Varma Kochanujan Thampuran, their second child but first son. Traditionally, in Cochin Royal Family, the first born male gets the name Rama Varma, the second male child Kerala Varma and the third Ravi Varma. If there is a fourth he becomes Rama Varma and the sequence continues. I had a maternal uncle named Kochanujan Thampuran who had also an uncle named Kochanujan Thampuran indicating that even the secondary names are traditionally acquired.

My mother had two sisters with children of varying ages. We all had our own private quarters and servants. All the mothers, their Namboodiri husbands and the children ate their main meals in a common dining hall prepared and served by a Brahmin cook. Growing up, bathing was in a pond and there were separate ghats ( bathing facilities) for females and males. This was my Kovilakam or Palace set up. Nearby was the Tripunithura temple of Lord Poornathrayeesa. Next to the temple was our ancestral home, known as the " Amma Thampuran Kovilakam" built in the late 1700 AD. It is a traditional Kerala architecture with 2 courtyards meaning it is a ettu kettu. Sometime in that time period, 4 sisters of the then Cochin Royal Family moved to Tripunithura to stay there. As the family grew, members built their own Kovilakams and moved out but still using the Ettukettu for common family prayers and other family functions. When I was growing up, there were 40-50 Kovilakams in an exclusive area called Kottakkakam or "inside Fort" with more or less the same set up. The various Kovilakams, the Poornathrayeesa temple and attached structures, Amma Thampuran Kovilakam, the Kalikotta Palace, Kalancham buildings, ( Royal administration buildings) ,Royal cremation compound, Puthen Bungalow Kovilakam and shrine, and embrandiri madhams ( Embrandiris being Brahmins from Karnataka who traditionally served as temple priests whose quarters were called Madhams) made up our community inside the kottekakam. This is the portrait of our joint family existence.

The women and the children routinely frequented the temple and the Amma Thampuran Kovilakam Vadikkini ( the prayer wing of the Ettukettu). For children, the Ettukettu and the nadappura ( a long hall) afforded ample space to play. A constant interaction took place amongst the members. This was the norm at least until I became a teenager. A typical day started with waking up at about 7.00 am, bathing in the pond, prayers at the temple and Vadikkini, a cup of Coffee and a little bit of home work if there were no cousins around to play with. Soon after 9.00 am the morning meal is served for the school going children. Rice served with sambar and a second curry and also a sautéed vegetable with pappadam ( crisps) and pickle used to be the routine. On special occasions, like somebody's birthday and other religious and auspicious days, sadya was the order. For Sadya, there were several curries and to top it all a payasam ( desert). Meals were served on fresh plantain or banana leaves. The food that was left over belonged to the female servants who took care of the children. The used banana leaves were fed to the dairy cows that most households had. The male servants did the grocery shopping, prepared the vegetables to be cooked and the cook had to be a Brahmin either from Tamil Nadu or Tulu region of Karnataka. The male servants were also in charge of the cows, gardening and various other chores. The Royal Family enjoyed Royal welfare. Moneys were distributed to each member every month varying in amounts depending on the seniority. In addition, rice, sugar, salt, kerosene and seasonal vegetables had to be distributed with the supervision of the palace office. For each Kovilakam there was a manager who coordinated all these functions. The manager, cook, the private cook, the male servants, the female servants and errand boys (often the children of a servant) constituted the work force of a Kovilakam. The families of this work force subsisted because of this Royal welfare!

The Poornathrayeesa temple at Tripunithura was intimately connected to all the Cochin Royal Family members from birth to death and the activities in the Temple indeed dictated our life style . Most of the family members congregated here from the morning for prayers and rituals. The older members, especially the ladies, spent time till the lunch break which was usually at pre-noon. Male members spent less time except when special festivals occurred in the Temple. School going children were packed off to the nearby Palace school. The little ones and the toddlers were taken care of by devoted servants who were often bonded with the children.

Each baby born in Cochin Royal Family goes through an enslavement or surrendering ritual. It is called 'adima kedathal' . This procedure involves laying the baby on a banana leaf, usually on the 28th day, and laying it in front of the Poornathrayeesa idol. Traditionally it is done at the prayer room of the Amma Thampuran Kovilakam. The 'Moothathu', or representative of the Lord Poornathrayeesa, picks up the baby on the leaf and gives it back to the mother. A special puja is also performed by the temple Thanthri. It denotes total surrender to Lord Poornathrayeesa. For a detailed description of our life style please refer to a book written by my elder cousin sister, Santa Thampuran " Kochi Rajakudumbam; aacharanushtanangal" in malayalam language.

All the Cochin Royal Family members originated from a single female ancestor who was adopted by Raja Rama Varma in 1715 from the Chazhiyur branch of the Perumpadappu Swaroopam. This Raja was the uncle of this girl. By this time the other branches of the Swaroopam namely Madathingal or Muringur, Elaya and Palluruthy had no members. Even Mutha branch had no available female adoptees. Raja Rama Varma had reigned supreme and had coaxed the Dutch to war against Samudiri and had re-conquered territory belonged to the Perumpadappu Swaroopam in the latter centuries except the village of Vanneri, the Royal seat of the original Perumpadappu Swaroopam . This 1715 adopted ancestor had two granddaughters. The older one gave birth to the famous Sakthan Thampuran who died in Thrissur in 1805. The younger one was the famous Chittamma Thampuran who had two sons, Raja Rama Varma who died in Vellarapilly in 1809, and Raja Vera Kerala Varma who died in Tripunithura in the late 1820's, as well as two daughters. The youngest daughter had several sons and one daughter who was Ikkavu Thampuran. Ikkavu Thampuran had four daughters and three sons. Ikkavu Thampuran's husband was Kunnath Pattery. From these four daughters originated the four thavazhis or branches residing in the various Kovilakams. Amma Thampuran Kovilakam was the cradle and major modifications took place only after 1864 and what remains today is at least 145 years old. Our family was known as the perumpadappu swaroopam. From circa 9th century, this family survived many wars, and travails and finaly 4 sisters of this family came to live in Tripunithura. By then we were known as the Cochin Royal family. Today, the descendents of those 4 sisters are the present Cochin Royal Family. Their history is the subject matter of this web site.

I have no coherent memory of my early childhood. I was a sickly child and had measles, mumps, and chickenpox as well as a protracted period of jaundice most likely infectious hepatitis. I also remember distinctly a leach being applied to an abscess I had developed. I must have had some kind of reading disability and my parents recognized it and employed a private tutor. She obviously helped me greatly as I finished second in my fourth grade and first in the fifth grade in my class.

This is the time I started to understand the peculiar exclusive nature of my predicament. I was enrolled in the school as Rama Varma Kochanujan Thampuran [Junior]. I was the 168th Prince of the Cochin Ruling Family at birth. There were 167 Princes ahead of me and many with the same name as the names were traditionally bestowed. Palace School was exclusively for the members of the Cochin Royal Family. My interaction was only with my cousins. We played together in the school, temple yard and other common venues under the control of Royalty. The only other exposure was to the servants who literally took care of the children for all practical purposes. The mothers spent their time in religious and ritualistic activities in the Poornathrayeesa Temple and the Ettukettu prayer rooms.

I can remember the days when Kottakkakam observed strict pollution edicts. Intolerance to the so called lower castes prevailed at least until the temple entry movement and India's independence. I could never understand the hypocrisy of our learned elders who welcomed the Jews, Muslims and the Westerners in the bygone era to have perpetuated such intolerance towards the lower caste Hindus. Strict adherence to scriptural injunctions may be one reason. After all, the foreigners were not referred in the scriptures!

My memories at age five, in 1942 when the Second World War seemed to end in favor of the Allied Troops are patchy. Tripunithura being close to the Cochin Harbor and since there were rumors of sightings of Japanese ships , most of my extended family left Tripunithura and vacationed in places away from the sea in interior regions of the State. Since Cochin was a Feudatory of the British, there was a functioning war support council. I remember visiting an exhibition with involvement of British and American soldiers demonstrating all kinds of weaponry. This was my first exposure to the white men who were called 'Sayyip' in the local lingo.

During the months of April, May when the temperature was high, vacationing along small rivers was a great experience. We spent these days playing in the river, learning to swim, canoe and reading books and of course eating mangoes. After the vacations, school reopens and the routine continues.

The Palace School with grades 1 to 10 ,traditionally was for the girls . But the boys also received elementary education till the fifth grade here. This school was housed in the Kalikotta palace . My elementary education was solid with caring teachers. I especially give tribute to Meenakshikutty Amma of Kuttikatt family who nurtured me through those early years. Indian Independence from the British came on August 15th 1947 when I was about 10 years old. While the whole nation of India rejoiced and celebrated, I was too young to understand the implications especially for my family. On that day sweets were distributed , a flag was hoisted and we all sang the National Anthem. Today I know that there was an Anthem for the State of Cochin but it is forgotten now. From the fifth grade to the 8th grade, schooling was in the Princes Branch school. After the eighth grade the last three years were spent in the Government Boys High School, interacting with students from all walks of life and from all religious sects. This has been the tradition for the previous generation of Cochin Royalty also.

For us young Princes, the elementary education in Kalikotta School, the Prince's branch and later the high school fulfilled the educational needs. We had a literary society supervised by designated school masters and a guardian Prince.( an uncle who acted as a guardian) At the end of the year, an annual meeting was conducted with invited motivational speakers and price distribution for scholastic and extracurricular accomplishments. This was also an occasion for thespian skills to be exposed as there used to be a variety entertainment program. I distinctly remember playing a feminine role with all sincerity and being on the stage. It gave me courage and a weird sort of thrill being on the stage on many later occasions. Daring to cut a ridiculous figure if necessary gave me a vicarious thrill.

When I was twelve years old, my younger brother and I were woken up from sleep one night and was asked to proceed to my aunt's living quarters. On her porch there was an assembly of older aunts. We suddenly realized that the final calamity had occurred and that we had lost our baby sister who had been ailing from a congenital heart disease. We started crying loud, choked up with emotions. Suddenly my aunt and others interfered and demanded that we hold our tears and emotions immediately and proceed inside and try to pacify our mother who was with our youngest brother who was just year and a half. " You have to be brave boys and not sissies". Life will have its share of tragedies! I admit that the tears dried up for me forever and I honestly cannot remember crying aloud thereafter. In that culture it was well accepted that death was a given! Many of my older relatives have told me that they pray to Poornathrayeesa daily for a pain free and uncomplicated death. (Ana-Ayaasena maranam). Birth and death are the opposites in our belief system. Life and death as opposites in the western belief system is not stark enough.

Growing up in Kottakkakam had another important aspect for the sports minded young Princes. There was a small ground provided for us to congregate and play. Cricket and football dominated my fancy. There was no adult supervision. No basic coaching or instruction was given. Hand eye co-ordination and raw athletic talent naturally decided the performance outcome. Soon after school the rush to this facility and the next two hours of ecstasy has left an indelible impression on me. In this field were several coconut trees, permanent fielders in cricket or tacklers to content with if one is dribbling the football. Basically at the end of the day tender coconuts were plucked from these trees to satisfy a thirst and what a relief it was. Soon after 6 P.M, I had to rush home for the evening ablution and then visit the temple where you again spend time with your cousins. My closest cousins were also the closest neighbors and we had combined tuition until matriculation.

All young Princes have to go through the sacred thread ceremony known as Upanayanam. Mine took place at age 14 together with my best friend and cousin. This is to ritualistically sanction that the youth has turned to be an adult. The process involves a brief period of brahmacharya during which time the daily Vedic prayers are instructed and sanctified. My guru was the father of my best friend and partner in this ritual. We both had to perform our Vedic prayers in front of our great uncle who was a great Sanskrit scholar . He happened to be the last Cochin King at the time of Indian Independence.

ERNAKULAM
At the completion of fourteen years of my life and having passed the matriculation it was time to enroll in the college. Maharaja's college at Ernakulam was the obvious choice. I had budding aspirations to become a physician even then and hence I chose natural science group though most of my close cousins chose mathematics in order to do Engineering degree later. Parental guidance and supervision by the private tutor had played a solid role in maintaining my academic discipline. In Ernakulam I was a free bird. All the college going Princes were in a special boarding house named Residential Palace. Though the heyday of this institution was past, a semblance of it continued for two more years. Every one of us had a single room and some with attached bath rooms. For others there were common bath rooms. There were designated servants who took care of the washing and laundry . There were Brahmin cooks who prepared sumptuous meals, a fleet of cars and drivers to take us to the college and back and a manager who also functioned in multiple ways tutoring some, as a librarian and sometimes as a confidant for some youngsters. The manager reported to the warden who used to be a senior uncle who had his private residence in Ernakulam. Attached was a small ground at one time accessible to the backwaters but later lost due to reclaiming of the land to build a foreshore road. We played cricket in this ground and it was here for the first time I got basic coaching from a professional. This I believe was the birth place of cricket for the Cochin Royal Family elders of previous generations and the trend continued at least through my generation with disastrous results for the development of some of us at least. For me cricket took upper hand and the studies were neglected. For the first time I failed miserably in the year end examination.

If one fails in yearend examination just prior to summer he can repeat the examination in September. If the results were favorable in September, the problem is that one has to wait till the next year to continue. This was the time I went to Madras for the first time and stayed with my youngest uncle who had settled down there. In addition, my older cousin had his first job there. When Madras was a British Presidency, in the heart of Nungambakkam ( a suburb of Madras) was an estate consisting of several acres named Tulloch Gardens. This was acquired by the State of Cochin in the 1920's and named " Cochin House". The then Maharaja stayed there from time to time. Whenever the Raja stays in Madras, the Dewan or the minister (the Serwadi Kariakar ), the manager, and others of lesser importance, all had to be accommodated. Hence there were a Dewan's Quarters, Serwadi Quarters and other buildings in the compound. My uncle was staying upstairs and another cousin was staying downstairs. In 1954, the city of Madras still had a colonial charm with fairly orderly traffic in the Mount road, reasonably clean Marina beach and the Madras cricket club at Cheapauk gardens. Exposure to this city, paved the way for more future trips for playing cricket and watching test cricket on many occasions. Many Cochin Royal Family members have been traditionally educated in Madras. My aunt stayed in Madras for a whole year in the 1920's to complete her B.A. Honors degree. She was supported by her grand uncle and for a period her sisters and her grandmother stayed in Cochin house while attending college.

I managed to redeem myself by passing the repeat examination, at this time staying with my uncle and aunt in Ernakulam. For the next two years I stayed with them. I majored in chemistry. As for cricket it was a mixed result. After the zonal matches, 18 were selected for the Kerala State team to play in the Ranji Trophy tournament. Unfortunately 2 of us were dropped at the last moment . It was a great disappointment and I had to rethink my commitment to Cricket. This was the moment I believe I felt motivated to pursue academic studies in earnest. I started pursuing the underlying desire to study medicine. Admissions to Government medical schools were well-nigh impossible. Luckily, private medical schools were being started in neighboring States. My father was encouraging me though my mother and her sisters were dead set against the idea purely because of orthodoxy. My oldest uncle favored it and prompted me to consult none other than our great uncle Pareekshith Thampuran, the last Raja of Cochin. In deed I mustered enough gumption and visited him at Hill Palace. He congratulated me on my decision and waived the objections raised by my mother and others. Not only that, he also asked that I discuss with him every year as to the progress I was making! Armed with this encouragement my father and I visited couple of newly formed private medical schools to pursue my dream.
MEDICAL COLLEGE
I was lucky to be called for an interview at the Kasturba medical college, Manipal in the state of Karnataka. One of the greatest entrepreneur of education in newly independent India Dr T.M.A. Pai had the vision to start this medical college. Many of us were given a second chance by him. Mr. Shantaram Rao an English professor and the President of the Maharaja's college cricket club accompanied me to Manipal and personally introduced me to Dr Pai! In July of 1958, I started my medical schooling. For the first time I got motivated and applied myself in learning with pleasure. Also I played cricket with abandon as only one could play during the semesters with no examinations at the end. For the next six years, great friendships were developed. Kasturba medical college was unique for the following reasons. The students came from all over India. The term pan-Indianness as applied now existed in KMC, then. The teaching faculty was also pan-Indian in character. They were retired professors from various medical schools in India. Yet there was a clannishness amongst linguistic lines. Most of the students were earnest in their studies, yet a failure rate of forty percent was common. Even if one does well in the written part of the examination, in the practical's especially during the oral part many get tongue-tied, panic-stricken and perform poorly. Familiarity of spoken English was suspect in students who came from some of the States in India. I was lucky because of cricket and also getting involved in thespian activities. I remember appearing for orals in forensic medicine, and the internal examiner remarking to the external examiner 'he is our cricket captain, he is already fifty not out!'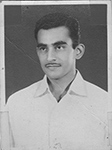 Five years of medical school and a year of rotating internship passed by rapidly. During the internship, few of us went to Madras and wrote an examination to qualify for post- graduation in the U.S.A. This was known as ECFMG. (Educational Council for Foreign Medical Graduates) Some took extensive preparation for this test and few of us did it for fun. A trip to Madras, stayed with my cousin brother and played cards deep into the night and showed up for the test. This was the first time I took a multiple choice question and answers format. Thoroughly enjoyed the challenge and felt good. Few weeks later, I was notified that I passed the test! In due course, hospitals in U.S were sending application forms and detailed prospectus. There were training programs opening up in the U.S after passage of Medicare, a Government sponsored medical insurance for seniors over 65 years. Many community hospitals needed qualified doctors and were willing to sponsor foreign medical graduates with exchange visitor visas. Couple of my friends who were actively looking for places for training handed over to me a few of the opportunities that did not suit them. I decided to process an application to one of the hospitals in Cleveland, Ohio. Lo and behold, the hospital sent me a contract and I was to join them within a year! This was too fast for me!

The camaraderie and friendship that developed at certain periods of one's life seem to be somewhat transitory. Today more than fifty years later all I am able to do is to reminisce those days and relationships. Much later in life as I was retiring from professional life I could only analogize as to the close association with a group to a co-passenger in a compartment during a long rail journey. It was wonderful time for me to be in the same compartment for a while. But I had to get out and move on. I can never expect to be in the same compartment again. So it was in Mangalore after week long partying I was literally placed in the train to Cochin!
MARRIAGE
Dr Rama Varma Kochanujan Thampuran arrived in Tripunithura by Mangalore-Cochin Express on July 1st 1964. The very day my father announced that I had a few serious marriage proposals. My parents and close relatives had narrowed the list down. I was to visit my uncle and aunt the next day in Ernakulam as usual and this time I was to meet a candidate of their choice..my aunt's cousin Usha. She was a senior in College, handsome, happy and willing to engage me in a conversation with sense of humor. In a few days she was to go to Delhi to finish her last year in college and for me to be an anatomy instructor in the medical college in Alleppey. We had little time to court but we kept busy writing to each other. We did manage to spend time in Bombay for a few days while she came from Delhi during a holiday break to visit her sister.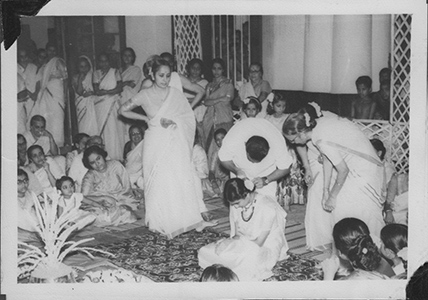 We got married on 26th May 1965 at Tripunithura . Rented a house in Alleppey and started our married life. The idea of leaving for U.S. as soon as possible gathered momentum. However my passport application was rejected on the grounds that the Government of India felt that the Indian brain drain had to be stopped. This was obviously a policy decision. My father-in-law who was a great constitutional lawyer contested this in the Kerala High Court and successfully defended the right to travel for an Indian citizen. Similar decisions were arrived at in various other High Courts in India. Soon I received my passport. It was November 1965 and the sessions start in U.S.A usually only in July. I wrote to my medical director in Cleveland, Ohio, and he promised me that I could start in January 1966 as an extra-ordinary situation. Armed with all these papers I went to the Madras U.S.Consulate. I was confronted by another hurdle raised by one of the screening officers in the consulate. Since my contract to start in July 1965 was invalid I should wait till I got a new contract. Luckily for me the Consul appeared at the desk and I decided to discuss my plight directly with him. I came up with the proposition that I will request the medical director to personally cable the Consul and then if he was satisfied he can issue me the visa. He remarked that it was reasonable. I explained my predicament in detail to Dr Grauel by a cable. Two days later I picked up the visa from the Consul!
U.S.A
I took a Trans-World Airline flight from Bombay on 30th of December 1965 at 2 A.M. It was a bad time in India and foreign exchange was scarce. We were allowed only $ 8 worth of travel exchange. The TWA service operated as a shuttle with landings at Riyadh, Cairo, Athens, Rome, Prague and Zurich. Arrived in New York by 6.00 P.M. Took a connecting flight to Cleveland and by 10.00 P.M I was at the Fairview Park Hospital and got acquainted with the house staff. The house staff consisted of a few Americans and the majority were Philippinos, Indians and Pakistanis, South Koreans and a few South Americans. I met Dr Grauel on 31st December who welcomed me and said that I was on 24 hours call duty as a medical intern on the New Year's Day 1966. He was sorry that I will have to do the hard way without any orientation, but he had instructed the resident on call to help me out. In a new country after a long travel it was an exhilarating challenge indeed. A medical intern is usually at the bottom of the totem pole in the medical hierarchy. He gets called first. I was called to the emergency room early morning to see a patient with acute myocardial infarction, a typical heart attack. My job is to get a history and then do a preliminary physical examination. Patient was at that time being already cared for by the emergency room physician and the medical residents. This was a text book description of a heart attack victim. All the theoretical knowledge I had was exhibited by this patient. I had not seen a heart attack victim in India! As I was trying to get a brief history and physical examination, the patient died. Within fifteen minutes, another patent arrives with the same condition! As it was too busy in the Emergency Room a decision was made to transfer him to critical patient's room in the hospital. The coronary care and intensive care units were only conceptual then and were to be instituted in Fairview Park soon. This second patient also did not survive. I literally had to do posthumous history and physical examination. The medical resident who supervised me was Dr Mukherjee from India and helped me immensely on that eventful day! In due course I learned to cope and manage. My wife joined me in March of 1966. By that time I was used to the intense routine of an intern. The hospital provided full maintenance including a one bedroom apartment. The monthly stipend was $ 400.00. This was good money in those days. We saved enough to pay for a down payment in 6 months to buy our first car..a used Chevy impala . Our first child Vivek, was born in July 1966.

Usha and the baby took care of themselves. They were a happy pair. As an intern on call every other night I was not home much. We had great help during weekends because of Mamma and Unni, with Tripunithura connection who lived in a town close to Cleveland. Mamma was the daughter of a grand uncle of mine and Unni her son a bachelor then. (Mamma was the daughter of Kochammaman Thampuran, a brother of Abdicated Highness ).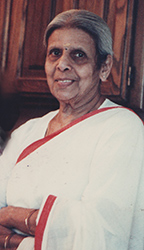 There were also other families we socialized with and got close to. The concept of vacation and long distance driving, an American way, was tried out by us when the baby was only 9 months old. Three families travelled together to Florida for a week in 1967. From time to time we had weekend get-togethers in different apartments which were enjoyable. Just about when Vivek was a year old Usha had to go to India with the baby as her mother suffered cerebral hemorrhage and later died. She was supposed to have a berry aneurysm in the brain bust and bleed. I was at that point in time rotating through neurosurgery and couple of times scrubbed and helped neurosurgeons clipping the bleeding vessels as the most junior assistant! This group of neurosurgeons were the pioneers at least in U.S.A to close the scalp without the bone in order to diminish the intracranial pressure post-craniotomy. Though I was aspiring to specialize in neurosurgery it was extremely difficult as the positions were few and most in University programs. My second option was urological surgery and I was lucky to get a position in another hospital in Cleveland. Doctors Victor Laughlin and Paul Boyd were quintessential Americans both trained at New York University under urology Pioneers. They were less professorial and easy to get along with. They were the mentors for the next two and half years. Six months of the rest of three years was spent at Children's hospital in Akron, Ohio, concentrating on pediatric urology.

Soon after I joined the urology training program in the December of 1968 our daughter Kavita was born. This time my wife had an easier time taking care of the baby particularly when the proud brother was supervising the whole thing. We were at this point renting an apartment and very great friends of ours with Ernakulam connection were also in the same apartment complex. A year later, we got accommodation in the hospital housing complex. An impulsive decision was made that at the end of the year we will visit India and Usha and kids will stay back in India. I was to return, finish residency, appear for Canadian F.R.C.S and then rejoin my family in India. At the end of 1969 we made a trip to India and only I returned. I was to have pediatric urology training in Akron Children's hospital for six months. This was great experience and thoroughly enjoyed the time. This was the time President Nixon made a decision to open up permanent visas to medical personnel in U.S. as exchange visitors. More than thirty thousand doctors applied for the so called Green Card! I had to bring back my family from India and as soon as they arrived I and my wife applied for the permanent status. Our children were U.S. citizens by virtue of their birth in the United States. We stayed in the hospital quarters again until I finished my residency in urology. I had to have a license to practice and to write for this examination I had to be a permanent immigrant. I decided to do a year of clinical fellowship in urology at Akron General Hospital and we moved to Cuyahoga Falls, Ohio. At the end of this I was qualified to practice urology anywhere in the U.S.A!

In February of 1972, we took a vacation visiting prospective practice opportunities. I had ruled out Ohio because it appeared to me that there were too many urologists in Ohio. During my training I had opportunities to attend several American Urological Annual meetings and interact with peers in training both American and foreign medical graduates. Somehow I felt that the central States in America were wide open. I had initial contact with the places I was going to visit. V.A. Hospital, Tuskegee, Alabama had tried to recruit me for almost a year. I visited the place and was somewhat overwhelmed because of the fact that more than 90 percent of the population was black. Moreover, the chief of surgery who was trying to recruit me was leaving the hospital soon. Though I was quite at ease with black Americans in Ohio my day to day life had not prepared me to live amongst a black community which even now pains me that I did not avail of that opportunity. From Deep South Alabama we drove to Temple, Texas and looked at a V.A facility. Next we visited a place in Kansas, where I had to go in private practice and the hospital there was keen to help me. At last I drove down to Chickasha, Oklahoma, purely on the basis of an advertisement I had seen in a medical journal looking for a urologist to join a multispecialty medical group that had been functioning ever since the end of the second world war. There was a snow storm passing through and the roads were blanketed with wet snow. We stayed at the good old Holiday Inn. Mr. James Loy was the administrator of the clinic and I had conversed with him before about the possibility of visiting Chickasha. Mr. Loy had already alerted the doctors who were on the board of Chickasha clinic and were to meet in the country club to get acquainted with the visiting Varmas. James and Duane Loy met us at the hotel and drove us to the Chickasha Country Club. We got introduced to the Stolls, Herndons, Harrisons, and the Gibsons. We had wonderful interaction between all of us and a spontaneous kinship was developing miraculously. After dinner we went to Dr Gibson's residence for further talks and a possible association with the clinic. The next day I visited the Chickasha clinic and met other doctors and the clinic personnel. Chickasha clinic has never had a foreign medical doctor until they recruited a thoracic surgeon just a few months before that. I would be the second and would be the first Indian family to live in Chickasha, though there has been an American Indian Settlement in the neighboring town Anadarko. The dinner was with the Loys. The kids included. Jim Loy had this prayer before dinner. 'Oh Lord! Thank you for this delightful family to be amongst us and we hope and pray we find mutual happiness and comfort with them in our midst'. The next day sun was shining and the snow was melting. Filled up gas paying just 25 cents for a gallon!
CHICKASHA
In July 1972, we drove into Chickasha with literally all our possessions in our brand new Ford station wagon. After the July 4th weekend I started working. My first patient was a retired judge on whom I had to do a prostate operation. The octogenarian did well but demanded house calls for follow up! The group kept me busy and within couple of months my income was double of what was promised! The bank gave us a personal loan of $ 6000.00 to pay down payment for our first house. This was a three bed room one level ranch house with decent backyard and a small front yard and a two car garage. The Nelsons were our neighbors and best friends in this new colony. The Bushes, the Stacks, the Clarkes, the Badgets, Howe's, and the Umbaghs were all neighbors. Vivek started first grade and Kavita had to wait for another two years. I could drive to work in seven minutes and the clinic and the County hospital were adjacent buildings. The working conditions could not be better. Though the day started at 7.00A.M, most doctors took lunch break and I came home for lunch usually. Typically the day ended by 5.00P.M. Yet, being the only urologist I was on call every night! Acute urinary retentions, renal colic, genitourinary trauma and other acute emergencies had to be attended to. Work those days stimulated me. To feel needed is the greatest satisfaction in all what one does. Those were happy times.

Chickasha Clinic party: a little theatrics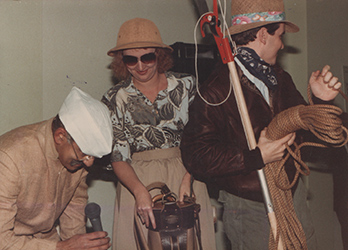 In Chickasha it was imperative that we embrace the American ethos. We had no issues with that either. Cousin Nirmala visited us from time to time from the nearby university. In Oklahoma City, there was a small North Indian Community, but we could not actively socialise. Oklahoma Football was big and Vivek and I got involved with their fortunes. Later on, cousins Ammini and Ramachandran and their family settled in Dallas, Texas and we visited each other monthly as Dallas was less than a 4 hour drive.

After settling down in Chickasha for a year we made a trip to Kerala in November- December of 1973. My uncle and aunt had moved from Ernakulam to Thrissur and the former was convalescing from a stroke he had suffered. Three weeks of vacation was a luxury and that too I was lucky to have my surgery colleagues willing and happy to cover me in my absence. Tragedy struck us as my uncle passed away with a repeat stroke after we had returned. December of 1974, we were again in India for three weeks. My father in law was quite depressed. He had a cataract surgery in one eye and unfortunately a post-operative complication of retinal detachment. Nobody wanted to operate the other eye with cataract. Particularly for him life without reading was unthinkable. I suggested that he come to U.S.A. In a weak moment he agreed. He was afraid of flying as his brother had died in a plane crash years ago! He made it clear to me that he was to be operated on by the best specialist in U.S.A. I was in contact with a young ophthalmologist who had visited our clinic who was being trained in Boston Eye Institute headed by Charles Schepens, a world famous retinal specialist. In April 1975, Mr. V.K.K. Menon landed in Boston and my wife greeted him at the airport. My father in law rested in Chickasha for a week and then went to Boston for the surgery. Dr Schepens told him that he does mostly retina work. As a special case he will do the cataract surgery. This pleased Mr. Menon greatly. After an uneventful recovery he enjoyed his stay in Chickasha for few more months and then flew to U.K. to spend some time with his son and back to Ernakulam.

While my father in law was still in Chickasha my youngest uncle and his wife from Madras visited us and stayed with us for a few days. The year 1976 started badly. Usha lost her brother in U.K. to a traffic accident. My father in law must have been heart broken. He had rejuvenated his law practice and was busy. Later he himself fell ill and lost all desire to fight. He was a dejected man when he died in Delhi at the end of the year. In Chickasha, my youngest brother joined us and went to the local college to start a new beginning. The kids loved him and appreciated the uncle. Then came my father to experience the American life. He adjusted so well and took over cooking and vegetable gardening. For his sons it was an eye opener as he finessed and perfected the Tripunithura cuisine in Usha's kitchen. Kids, particularly Kavita snuggled up to him and communicated in their own language. This was the year that I became a board certified diplomate of American Urology. Prior to my father in law passing away we made it to Delhi and after his death we took a pilgrimage to Haridwar and Rishikesh. My brother kept house while we were away in India including the care of our dog Peter, who had adopted Vivek. Chickasha was changing. New residential colonies were being built. The clinic was expanding. Some of the older doctors were looking at retirement. New doctors were being added and the old Chickasha clinic was becoming Southern Plains Medical Center. Dr Dick Stoll was a good man and a great man. He demanded that I address him 'Dick'. No sir or Dr. He said that I was being colonially polite! Dick had spent couple of years in India during the Second World War. His British friend used to take him to the Raja of Birdwan! The anglicized Raja gave Dick gifts and he insisted that I keep a few of them years later. His wife Mary Margaret had died and he himself was afflicted with multiple myeloma. Since he was living alone we used to invite him for a meal now and then and used to go for Oklahoma Sooners games together. He wrote a short book – biographical, titled 'The Six Stoll Boys'. He gave me a copy and he wrote on it: - 'Inscribed for Usha and Kocha Varma, two fine people with two lovely children. The Varmas have added greatly to the clinic and to this area in the southwest united states, both in urology and as great individuals with marked intelligence and a fine twist of humor!- a tremendous asset to this area.- Dick Stoll Nov 23,1977.

A week after I had joined the clinic, Dr B.C. Chatham walked into my office and introduced himself. He said he had heard good things from his colleagues and gifted me with a set of the new edition of Emmett's Uro-radiology volumes predicting that he will soon be a patient of mine! Chat as most of us called him was indeed a rough diamond! The joke was that most of the babies were delivered by Chat in Grady County for decades and Dick had operated on most of the Grady County citizens at least once! Jim Loy the administrator as a youngster knew these pioneers of the clinic well. Charles Gibson was the transitional character who with Jim Loy was guiding the fortunes of the clinic when I joined. Charles was an artist when doing surgery. His role model was the famous Turnbull of Cleveland clinic. Nothing shook him. I have never seen him lose temper. His most famous quotation was or at least what struck me was his answer to the patient awaiting a procedure. "All I can say is that it is going to be different, hopefully for the better!" What he was implying obviously was that the complications of surgery are the complications of surgery!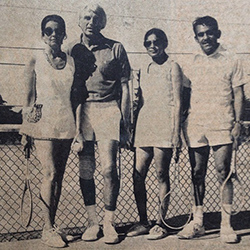 Duane and Jim Loy. Our best friends in Chickasha.

The Loys, in my estimate are one of the greatest husband and wife team in America. For us, natives of India, when we met them for the first time we felt that we were in the company of Gregory Peck and Katherine Hepburn! They were so classy in every way. Our association with them has been long and close. I remember participating in a Roast Routine organized to entertain the folks during a clinic get-together. I made a Don Rickles hate speech! On another occasion, while he was retiring, I remember calling him the institution behind the institution of the clinic. He was a fierce competitor while playing tennis. He was a master of hilarious one liners. Our life in Chickasha was made special by Jim and Duane.

When I joined the clinic, the pediatricians Herndon and Orr, the internists Harrison, Stehr, Revere, Bledsoe and Davis were already there. Paul Loh was the last to join the clinic before me. They were all quality professionals. I was lucky to be amongst this group. The clinic was adding another fresh group of physicians and surgeons and mostly young talent from Oklahoma. Linda Johnson was the finest surgeon I ever worked with. She used to help me often in my radical urological procedures. Though I used to operate with both hands, with Linda around I never had to use my left hand as she had already anticipated what my left hand was going to do! She certainly made me a better surgeon. Ron Orr was a sparring partner on the tennis court, intense at anything he did. Oklahoma football fortunes influenced Don Hess my personal physician. He could be moody if the Sooners did not do well.

In 1977 we sold our house and moved to a newer house with an adjacent vacant lot. We were playing lot of social tennis in the newly laid out tennis courts in the Chickasha country club. Our kids were getting interested too. We built our own tennis court in the adjoining lot. In the summer months a tennis coach from California spent time giving lessons and motivated the kids. Later the kids were taken to Oklahoma City for more coaching and competition. They did well in the state and started competing in neighboring states. During spring and summer Usha did lot of driving, taking kids to various tournaments. I felt that competitive tennis disciplined them in various ways.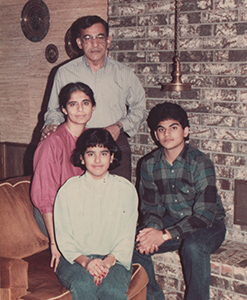 In 1977, Aunt Sharada Varma and Usha's sister Padma visited us. We met them at New York, visited Washington D.C and took a train ride to Pennsylvania. We flew later to Oklahoma City and then to Chickasha, and later drove to St Louis to visit our close friends Nairs and once to Dallas again to visit our cousins. They were with us for three months or less and hopefully got an experience of our life in U.S.

Soon after we moved to our new place at 102 St Charles, our neighbors Nelsons also moved to the same location. We had great neighbors..friends for life. Our circle of friends included the friends from the Clinic setting, Vivek and Kavita's friends and their parents, and so many others.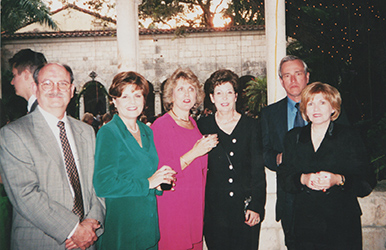 After taking membership in American Urological Association in 1977 it was routine for me to attend the annual meeting and seminars. Occasionally Usha accompanied me . We visited Greece, Italy and U.K for these annual events and thoroughly enjoyed the post-convention tours of sightseeing! In 1979, my brother went back to India after finishing his MBA! The next time we all went to India was for his wedding. We visited New Delhi prior to arriving at Kerala. We spent most of the time in Thrissur. Every time we visited India our children renewed their contacts with their extended family and understood how their parents enjoyed living in two worlds and still keep balance. This was also the time Usha went to the local college and completed her undergraduate degree in accountancy.

In 1983, I made another trip to India and videotaped bits and pieces of my trip. Back in Chickasha, we had serious discussions as to how to proceed with Vivek's and later Kavita's education. They both went to Chickasha public schools and did well. To get an experience in the real world out there amongst the ordinary folks and not be segregated in an exclusive private facility was certainly to my liking and strong held conviction. Yet we knew that the challenge they faced and the motivation to do their best was wanting. An element of parochialism was creeping into these kids. They were missing the big wide world of opportunities. It appeared to us that the universities will be too big and individual attention will be less than in small colleges. Academic liberal arts education was a priority. Good tennis program was greatly desirable. East coast or west coast was the preference. Vivek visited some of the small colleges. Ultimately it came down to the Swarthmore College in Pennsylvania. The tennis coach wrote a letter, which clinched the decision. Later Kavita chose Oberlin College in Ohio.

In the 80's, we had Buff and Gab, a pair of cocker-spaniels and a cat named mumpooch. They were so smart and so loving. Our lives were enriched by them . Decade of the 80's was eventful. I lost two of my uncles and later my father. Padma, Usha's sister also passed away in the latter part of the decade after a long battle with chronic kidney failure. Something else happened which seem to have guided me in a different direction. Ernakulam rotary club visited Oklahoma and the Chickasha rotary club was one of the sponsors. The Rotarians of Chickasha were to host the visiting group for a couple of days. They were being welcomed in a private restaurant in Chickasha. The leader of the group was M.Jayaraman who was a long time Rotarian and a friend of my late uncle. As a group leader he was about to speak. Suddenly he spotted us amongst the hosts. Jayaraman darted towards us and gave a conventional Namaste and proclaimed that I was his Prince and that he was overwhelmed! I believe he talked a little bit of the progressiveness and egalitarian rule of the Cochin Rajas. This most probably was lost on the Chickasha Rotarians! However there were quizzical Chickasha friends of mine popping up awkward questions off and on. It was a bit embarrassing to be called a prince/ Raja. More than that, my ignorance about the history of Cochin Royal Family irked me. A passion was developing in me to know more. Though I have been involved and had developed an interest in Indology, history of a family and a small State in India never interested me until then.

In U.S.A, changes in the practice of medicine was happening rapidly. Small group practice concept was being threatened. Health maintenance organizations were sprouting up. Privatizing to profiteer was the new mantra touted in the name of free market economy. These were unsettling philosophical convictions. I decide to take early retirement and return to India for a few years. This decision was greatly upsetting for lots of our friends in Chickasha and outside. We sold our home, and left for Tripunithura in 1993 after Vivek's marriage.
BACK IN INDIA
We set up home in Ernakulam first. I was interested in introducing a new noninvasive modality of treatment for kidney stones and secondly to early detect and treat prostate cancer by aggressive treatment. I had interaction with urologists in Ernakulam and in Thrissur discussing these areas of concern and develop some mutually benefitting centers. A few of the urologists in U.S of Kerala origin had been supportive of this idea and helped me financially to set up a Urology center. However I realized that I was pretty naïve and ignorant of the fears and trepidations that dominated the urologic care givers in Kerala. I ended up with a group of good doctors running a hospital in Thrissur, some of whom I had known before. I had limited practice in urology here and realized that the hospital had many priorities to be fulfilled rather than support my kind of urology without compromise.

Socially it was very satisfying. In Thrissur, we stayed close to my aunt. On weekends, we drove down to Ernakulam and Tripunithura and intermingled with the extended family and cousins. Though times had changed I could reminisce with the older generation and I interviewed selected seniors who were not shy to talk in front of the camera. Every year we visited U.S and stayed with our kids for month or so. In 1997, Kavita and Brian decided to get married. They came to India in the month of June to attend my 60th birthday celebration and couple of days later we had a ceremony to honor their commitment in an Indian way.

The day prior to my birthday, my nephews, nieces and others roasted me with an impromptu production of a skit 'KOCHANIYAM'. It purported that all that transpired in my life until then was due to a divine design!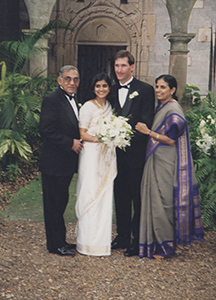 Kavita and Brian, Miami, 1997
BACK IN U.S.A
However a year later a colleague of mine from Chickasha wrote to me inviting me to rejoin the group because they had lost my replacement. We had no qualms about returning back to Chickasha. Our friends in Chickasha were so excited to welcome us back and they had already reserved a place to stay, a car to drive and help in every which way they could! It was so good to get back to our adopted hometown Chickasha. The clinic then functioned in a new way. I soon realized that I could not help them very much and they were not sure that they could guarantee an income that they had promised the first year. There were jobs opening up in Veterans Administration Hospitals and I narrowed it to Martinsburg, West Virginia two hours' drive from Washington D.C.

It was here in Martinsburg that I got intensely interested in my kind of historical research. I realized that Cochin and Kerala History was written based on records painstakingly kept by the Portuguese, Dutch and British. Prior to 1500 A.D. no continuous history has been available. Certainly no written history existed except for palm leaf granthas and inscriptions on stones and metallic plates. There were certainly myths and legends transmitted orally from generation to generation. Imperfect oral history and epigraphic history though fascinating, was not satisfying enough for me. It had to be written and decipherable even though the perspectives may be different. History texts then written by Logan, Sankunny Menon, Nagam Aiyya, C.P. Achyutha Menon and Padmanabha Menon referred to early Portuguese, Dutch and British historians and presented their perspectives. No new insight into history on an investigative basis seem to take place any more. The main problem seems to be changes in languages. The early Malayalam in vattezhuthu is read only by a handful of historians. Old Dutch has to be learnt to translate into new Dutch. Same thing with Portuguese. Most Kerala historians cannot read old Malayalam certainly previous to Tunchath Ezhuthachan. Today's Portuguese cannot read the Old Portuguese and the present Dutch does not understand Old Dutch. Voluminous amount of not yet deciphered material still exists.

The other problem is political. The history of feudalism, Rajas and domination by foreign western powers and colonialism are better forgotten. Wait until the people's history unfolds in due course. Un- fortunately there is no material to write a revised history either unless one bases it on myths and legends often unpalatable because of questionable veracity.

Yet another problem as alluded by the chronicler Logan was the total apathetic attitude towards history. He felt that either nothing happened historically to write about or there has been no native son wanted to be a historian! The Malayalees either did not preserve any historical documents or the Olas and other artifacts may have been destroyed by the humid conditions in the climate. There was no paper prior to the Portuguese times.

I had no passion for presumptive history. Epigraphic history alone was not sufficient either. I wanted the written stuff to get excited about. The first time I visited the British Library in London I realized that I was walking into a gold mine and frequent visits will make me richer and richer! In the British Library one whole floor is dedicated to the archival collection from Asia and Africa. There are manuscripts, documents, Olas, photographs, paintings and books in different languages carefully catalogued and stored immaculately. Today it is all computerized and easy to access with a password that comes with your membership. When the doors open, at 9.30 A.M, I walk in and grab what I was reading and write notes or transcribe on the laptop, make copies or order reproduction at a cost. Suddenly it is 5.30 P.M. I have visited this place many times over many years. More or less the same routine was followed. Sometimes Usha accompanied me. In London, most of the time I stayed in Royal Society of Medicine living quarters. One time I had my friend Sidhan video tape the library and the routine I described.

My first trip to Portugal was more or less a sightseeing trip. But later trips were more rewarding.

My visits to Netherlands were very well organized because of the kindness of Professor Hugo K s'Jacob who had published "THE RAJAS of COCHIN 1663 – 1720" first published in 2000. I made contact with him by E-mail and planned to meet him in our hotel lobby. I was in the lobby at the specified time waiting for my wife to join me. The lobby was literally empty except for a tall man on crutches right at the entrance to the hotel. I enquired and found out that he was indeed the Professor! He told me that he got out of the hospital just a few days ago after hip or knee surgery after a skiing accident. I felt bad and suggested that he should have notified by E-mail and cancelled the meeting. Hugo replied 'Oh no. I always wanted to meet a Rama Varma from Cochin'- after he had written his book! He took care of us for the next 12 hours. He took us to Hague and gave us a tour and then took us to the Archives building and introduced us to several historians on the faculty. Later he let us sit in with students who were being taught Old Dutch. Scholarships were given to international students as it was difficult to get Dutch persons. There were at least 3 from India in that class. We had dinner at the faculty club with his wife Nanda and Anjana Singh, a PhD candidate then. The next time I was in Netherlands I even stayed with them for two nights. In 2010, Sidhan joined me and videotaped or photographed the whole trip lasting for three days.

We met Ken and Joyce Robbins at a mutual friend's house in Washington D.C. Ken a psychiatrist and Joyce a psychologist, two delightful people that we love to meet and spend time whenever an opportunity arises. We have been to their house in Maryland which looks like a museum with artifacts from Royal Houses in India, collection of books and rare stamps including from Cochin. Kenneth is a fund of knowledge and has done great research, presented papers and exhibited his collections in various places including Smithsonian. He nurtures a special feeling for the Jews of Cochin and the whole Jewish Diaspora. He was the group leader who brought a team from B'nai B'rith to Tripunithura to present a humanitarian award honoring the ancestors of Erstwhile Cochin Royal Family. We videotaped the event. While in Martinsburg at 5 A.M. I was checking E-mails. Ken wanted me to translate some Malayalam words for his friend in Cambridge. I got an E-mail from Nick Balmer in a few minutes with a few Malayalam notations to be translated. He has been researching his English ancestor, Harvey Barber, who worked, lived and died in Tellicherry. I did the translation for him and added that my ancestor the Raja of Cochin in 1809-10 did indeed write a letter to Mr. Baber requesting help in an extra-ordinary situation. I sent him a scanned copy of the letter and we have kept contact ever since and have met often.

While in Martinsburg and also when we moved to Florida one interesting historical character as regards to Cochin and Travancore that I spent time researching was Colonel John Munro. He was born in the Scottish Highlands in the 1780's, joined the British Military at age 17 or 18 and joined the Madras regiment, fought in the Srirangapatam war against Tipu Sultan, assumed the post of Quartermaster general and was later sent to Travancore and Cochin as the British Resident by the Governor General Minto . Travancore and Cochin were recovering from a rebellion that had been quelled by force. The historians of both Travancore and Cochin have given credit to Munro as an administrator. Hundred years later, it was for Ulloor S Parameswara Iyer to extol the greatness of this Scotchman in his monograph. The letters written by the Ranis of Travancore are available in the Kerala archives. Munro himself was a great chronicler. The Munro papers are available in the British Library. How Munro ameliorated the malady with multiple symptoms that afflicted Travancore and Cochin was just remarkable. What intrigued me was the total lack of information about him since he left the scene and went back to Scotland. Hundred years ago, there was yet another reference of Colonel Munro returning to his native town Teaninich, Ross-shire, Scotland. During my next trip to U.K. I visited Inverness in Scottish highlands. Sandy Mitchell, a retired professor turned travel guide was to help me. Sandy had done his homework and he supplied me with material for me to read. I gathered that John Munro's family had been extinct since the death of his youngest son in early 1900. None of the sons had children and his only daughter had moved to the South of England after she married a Spencer. Sandy next took me to Foulis Castle close to Alness, and I met the Chief of the Munro Clan, Hector Munro and his mother Margaret Munro. The Munro's had migrated to Scotland years ago from Ireland, and had lived there for centuries. There were different branches or thavazhis of Munros and the Teaninich branch does not exist anymore. However, Munro's daughter Charlotte Spencer's son, Almeric Stuart Spencer petitioned the Scottish Court and successfully defended the right to assume the Munro name and to keep the Coat of Arms. Later, Sir Hugh Vere Huntly Duff Munro-Lucas-Tooth of Teaninich assumed the surname by deed poll, but not permitted by the Court. His son Sir John Eric-Tooth survives this day and a phone number and an address in Oxford shire was given to me. After a delightful time with the Munro's we proceeded to Teaninich and visited the huge Munro house where John Munro had lived, the Teaninich distillery he owned and the moderate size estate with the narrow Alness river flowing gently alongside the grounds and finally the Cemetery where the Munro family had been buried.

Back in U.S. I tried to contact the phone number in Oxford shire with no luck. I wrote a letter and I got a reply. Since then I maintained contact with Sir John and even visited him in his office in London. Sir John as such refuses to claim any connection to Munro unlike his dad who inherited what was left of in Teaninich. Sir John was under the impression that the papers and other artifacts from Teaninich was given to the Imperial War Museum. I was disappointed when the curator in Imperial War Museum denied receiving any such material. Sir John was kind to send me a copy of the John Munro painting hanging in his house.

Sir John Lucas-Tooth had referred me to an archivist, Jill Geber in British Library. She tried to help me and personally wrote to the Office manager in Imperial War Museum. He clarified that the terms of reference of Imperial War Museum begins from 1914. Hence the Teaninich stuff relating to General John Munro may not have been accepted since he died in the 1850's. The Teaninich artifacts and papers may be in the National Army Museum in Chelsea and particularly since this museum inherited the British Indian Army collections.

Sandy Mitchell has been trying to gather material about General Munro from old newspapers, church records and other sources. We located a Teaninich diary kept by John Munro donated to the library in Edinburgh. The senior curator, Dorothy Kidd of the National Museums of Scotland was kind enough to send me a copy of this handwritten diary kept by General Munro. This was a diary he kept with frequent entries, all about his farm, distillery and estate, which gave me another dimension to John Munro. In November of 2007, we made another trip to Munro country in Scotland. Sidhan the videographer and Arun Rama Varma, a sound engineer accompanied me and Sandy joined us in Inverness. We had a conference with Hector and Margaret Munro in the Foulis castle and other areas of interest that were associated with late General John Munro. All of it was videotaped.

From 2002 onwards under the auspices of Cochin Royal Family Historical Society, an annual symposium has been taking place. Initially I thought that this was a good way to share materials that I was collecting from various sources, with my own extended Family, though I have been doing it for satisfying personal curiosity. Living in U.S, and retired, I had the time and resources and the enjoyment of pursuing my passion. A family which was matrilineal, whose senior most male member was a ruling Raja since circa 1300 AD( at least two hundred years before the Portuguese arrived at Cochin in 1500) constitutes unique history. The tradition followed until 1947, and then became the first Princely State to join the Independent Indian Union. This was easy for the then Raja, because no Cochin Raja ever wanted to rule against the wishes of the States' subjects. People had wanted democracy and their own representative Government. It was a balancing act for Cochin being in between two powers Samudiri of Calicut and the invading expansionist militarism of the Marthanda Varma who created Travancore in the early 18 century. To survive, Cochin collaborated with Portugal, the first western nation ever to intermingle and interact with Asia in the name of spice trade. When folks ask me in different parts of the world 'where is Cochin' I tell them that there is where the west met east and the east tolerated the west. Toleration has been the policy of Cochin and for that matter all Kerala from time immemorial. Jews, Christians, Muslims were all welcomed. From King Solomon's time the south west coast of India has traded. The Portuguese, Dutch and the British added so much to Cochin and greater Kerala. Education in an organized systematic way was started by the British Resident John Munro who was also the Dewan of both Travancore and Cochin in 1812 with full support from the Raja and Rani. These States never looked back. At the time of Indian independence these were the most literate States!

All the Symposia have been videotaped. Guest speakers were invited. Since I was trying to share my experience with my own extended family only few regular outsiders attended. Participation from the Family with fresh input into the topic of discussion was good. Idea is to edit and summarize and create transcripts in addition to the videotapes. The present family structure has become somewhat nuclear. In another generation whatever is left of the old joint family and the relics of the matrilineal system will disappear. Heritage, culture and the lifestyle of the erstwhile Cochin Royal Family will also become history! How this unique Royal Family of prestige and honor transitioned to an ordinary middle class average mainstream family is another story waiting to be written. Of course there is no such story if the past is forgotten.

While all this has happened, our lives in the U.S was changing too. The grandkids were growing up. Their activities consumed quite a bit of pleasurable time. I was doing locum jobs and spent time in different States. November and December, invariably I was in India. In between my mother died at age 96. She had realized that she could not carry on her rigorous life style anymore and she resigned from life, took to bed and passed away. I was lucky to be at her bedside when she breathed last. My aunt in Thrissur was deteriorating memory wise and Usha was trying to spend more time with her. Vivek was dealing with the aftermath of divorce. Kavita and Brian were hanging on to their jobs at print journalism hoping something better will materialize. And indeed it did! They joined MSNBC in Seattle. Vivek got married to Laura in Seattle. We sold our condo in Florida and moved to Bellevue Washington.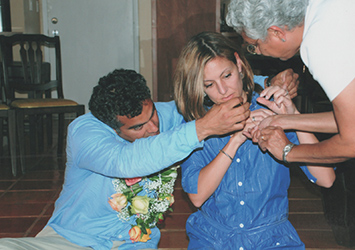 Vivek and Laura, Florida 2009

In November of 2011, aunt Sharada died. We have inherited her lovely home in Thrissur that was originally built by Usha's Grandfather. . We spend lot of time in Thrissur. Rest of the time we are in U.S. with our kids and grandkids. Priya is a talented soccer player. More than that she is a smart person. Jayan is talented and intelligent and can be awesome at baseball. . Little Teddy is mischievous yet adorable. He already knows so much! We will be watching you guys as your separate destinies evolve!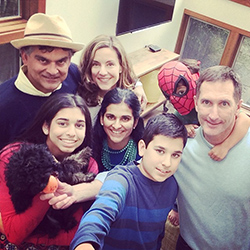 Jayan and Brian; Zeke, Priya, Kavita, and spiderman Teddy; Vivek and Laura .

At age 76, I am lucky to be alive and healthy. I am still batting. I am defensive and hope not to attempt any rash shots. I know it is an average innings so far, but then most folks are average. Did my Yogam unfold as it was supposed to? Were there Forces behind me? No question about it. Was this all predictable as per my Yogam? I still doubt it!

"SUCCESS IS WHEN YOU LOOK BACK AT YOUR LIFE AND THE MEMORIES MAKE YOU SMILE!"